Have you ever sat back and really thought about how much time you've spent watching TV? I did that today...and shit, son, it's a LOT

So here you have it. Every single anime series that I've watched over the past 10 years.
Total time commitment? Counting rewatches, it comes out to just over
34 DAYS
. That's right, people - I spent a solid MONTH watching anime

And that's not including OVAs, feature films, and series that I started and then gave up on*.
Here's the full damage:
INUYASHA
The very first anime I ever watched. I used to stay up until like 1am to catch it on adult swim (in secret, of course...back then my mom thought everything was "the devil", so naturally a show about magic and demons was a no-go).
TRIGUN
Back in high school,
odette-blue
and I marathoned this in one looooong-ass sitting - as I recall, we started in the morning and didn't finish until 2:45am. I hallucinated pretty strongly while sleeping that night

NOIR
Another series that I watched with
odette-blue
back in the day. Don't remember much about this one, other than the fact that it had the
coolest opening ever.
ONE PIECE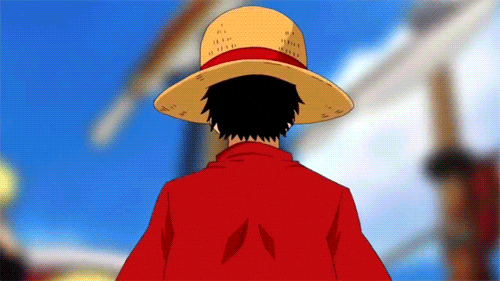 My favorite anime for many, many years - and the primary contributor to the 34 day tally. I watched somewhere on the order of 450 episodes before I finally threw in the towel and decided to wait for series completion to watch the rest. Still waiting...
FRUITS BASKET
My little cousin
kyosgirl11
was
obsessed
with this manga when she was younger, so naturally we watched the anime together. She still has her Kyo cat pajamas, all these years later...I wore them recently while visiting her house. Go figure
CHOBITS
odette-blue
gave me this one too. Kind of a WTF experience, looking back on it

OURAN HIGH SCHOOL HOST CLUB
I don't think I really appreciated this series enough the first time I saw it. I need to watch it again at some point.
COWBOY BEBOP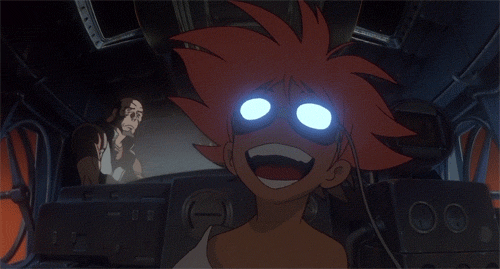 Another series that I marathoned with
odette-blue
. Made me want to get a Corgi.

EUREKA SEVEN
Great show. Hated the ending.
FULL METAL PANIC
Saw this in college with my buddy
Aeyamar
- although we skipped some episodes, as I recall. Mostly I just remember loving every word that left Sosuke's crazy, extremely attractive mouth

DEATH NOTE
*insert potato chip joke*
IRRESPONSIBLE CAPTAIN TYLOR
An oddball series with a SUPREME crowning moment of awesome for the main character.
VANDREAD
Aeyamar
liked this one a lot more than I did. Dita was cute though

ERGO PROXY
Remember that time Amy Lee got made into an anime character? Yeah, that was awesome. I have NO fucking idea what this show was about, but Vincent's
eye-reveal scene
still blows my goddamn mind.
PLANÈTES
An impressively believable hard-scifi series that I screened together with
Aeyamar
. Definitely worth checking out.
NOW AND THEN, HERE AND THERE
This motherfucker
broke
me. What a profoundly disturbing, heart-rending, unforgettable story. Once you've seen it, it'll never stop haunting you.
BLACK LAGOON
Pretty sure this one holds the record for
most f-bombs dropped
in a single season. Also Revy is a mega-babe

Aeyamar
didn't like this one quite as much as me.
THE MELANCHOLY OF HARUHI SUZUMIYA
*Hare Hare Yukai dance*
CODE GEASS
Another series that
Aeyamar
and I watched together. Lelouch, you poor bastard.
TENGEN TOPPA GURREN LAGANN
WHO THE HELL DO YOU THINK I AM??
SEREI NO MORIBITO
An unusual series with a
lot
going for it, including a fantastic mother-son type relationship between a battle-hardened spearwoman and an imperiled young royal. I just wish the supernatural elements had been better explained.
CANAAN
I remember...nothing about this series.
SAMURAI CHAMPLOO
Damn, I watched a
lot
of crap with
Aeyamar
. I love the opening artwork with a passion

SOUL EATER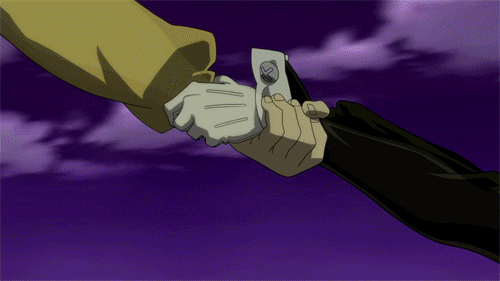 Saw this with my cousin Jordan, then again with my mom's boyfriend. Fucking love it

DURARARA
BOSS opening and ending themes. Celty is my homegirl.
KAICHOU WA MAID-SAMA
Watched this one on
fledermauskid
's recommendation. Usui is a trolling GOD
PRINCESS JELLYFISH
I cannot fathom why this only got 11 episodes

It's so damn precious.
DANGAN RONPA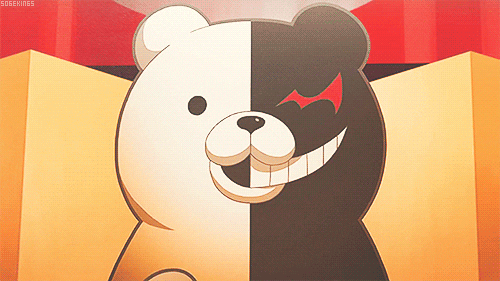 Murder. Intrigue. Psychotic teddy bears. And pink blood, bitch

TONARI NO KAIBUTSU-KUN
This damn thing had me in
stitches
. A romantic comedy starring a cold, does-not-give-a-shit workaholic and a socially retarded psycho? YES PLZ. Too bad it just...cuts off on episode 13. Now I need to read the manga
MIRAI NIKKI
High-caliber nightmare fuel, featuring blood-soaked, sloppy, under-age makeouts. Oh, and murder. Lots of that.
DENNOU COIL
This anime is criminally underrated. I reviewed it
here
. For the love of all that is holy, please watch it.
FREE!
What kind of self-respecting tumblr addict would I be if I hadn't seen this beautiful, perfect piece of shit? A+, 10/10, and you should check out the
abridged series.
THE WALLFLOWER
A comedy about a horror-obsessed girl who believes she's irredeemably ugly. The constant chibification got to be a little much, though.
ZANKYOU NO TERROR
The show that makes you root for terrorists

UTA NO PRINCE-SAMA
This was such an experience that I had to liveblog it.
SWORD ART ONLINE
Well, I liked the first 16 episodes...Kirito and Asuna's relationship is one of my all-time favorite anime romances. They make such an incredible team.
FULLMETAL ALCHEMIST: BROTHERHOOD
Watched this on
go-a-w-ay-yyy
's recommendation. I don't need to tell you guys what a priceless gem it is.
SHINGEKI NO KYOJIN
When the hell is season 2 coming out?
PUELLA MAGI MADOKA MAGICA
Saw this with
odette-blue
recently. Visually distinctive and compelling, but it wasn't really my thing.
KYOUKAI NO KANATA
Super moe bloodbender

NORAGAMI
Surprisingly good for a 12-episoder. It helps that Kazuma is such a babe.
MAGI
Titty fanservice aside, this is one of the greatest series I've seen in years. It has everything that I love in a story: adventure, awesome fight scenes, magic and wonder, a great mythology, intense friendshippu~, dark vs. light, and nuanced characters with inspiring strengths and relatable flaws. It reminds me of One Piece a tiny bit, except more metaphysical in tone (and with an Arabian feel, obviously).
....And that's it. I think. I have an excellent memory, but I
may
have forgotten one or two.
If you managed to make it all the way through this list, what about you? What anime series have you watched? Got any recommendations for me?
*Series where I watched ~10 episodes, but didn't finish: Vision of Escaflowne, Blue Gender, Baka 'n Test, & Terra E. If you count these, it adds an extra day to the tally.