I've been really, really, REALLY sick lately, and the only thing getting me through is the amazing new manga I found.

It's called Otoyomegatari, and it's set along the Silk Road in rural Central Asia during the 1800s. The story primarily revolves around a young nomadic horsewoman, Amira, who arrives from a distant village to marry Karluk, a boy eight years her junior. Complications arise when Amira's brothers return from over the mountains and demand their sister back (due to circumstances that I won't spoil here), and a conflict breaks out between the members of her birth family and the members of her husband's family. Meanwhile, problems are brewing in the north, and political tensions cast a shadow over everyone and everything. War may be inevitable, but in the meantime, life goes on. Wedding ceremonies come and go, feasts and celebrations pass, caravans travel back and forth along the Silk Road. Promises are made, petty squabbles are resolved, livestock are herded to fertile pastures, and children get themselves into trouble. It's an idyllic, unchanging pastoral life, with all its simple joys and tribulations.

I am CRAZY about this manga. It reminds me a little of Red River, but with a far greater air of historical authenticity. Local customs and ancient beliefs factor heavily into the narrative, meaning that things like alliance-through-wedlock, child marriages, inter-tribal warfare, etc. are all "normal" in the eyes of the characters. I adore the contrast between the traditions of the time, which are often so alien to the modern reader, and the simple, day-to-day interactions between family and friends, which are so familiar. Amira is an immensely likeable main character (what an adorable badass!), and her husband is an absolute sweetheart. Their relationship is both tragic and endearing, because they've both been maneuvered into this marriage by their elders, and yet they genuinely do care about one another. Even though they cannot be together like real spouses because of their age difference, their bond is both evident and, well, surprisingly touching.

My absolutely FAVORITE character is Mr. Smith, a British anthropologist traveling along the Silk Road, who stays with Amira and Karluk for a time. He's constantly asking awkward questions and jotting down notes, always with curiosity, and never with a judgmental air. As he travels toward Ankara in Turkey, he acts like a string, linking together the various parts of the plot. Through him, the reader gets to meet a variety of different characters from disparate cultures and see snippets of their lives and loves.
Anyway, I can't wait for the next chapter to come out. Damn ongoing manga, why can't it be finished already? I need more!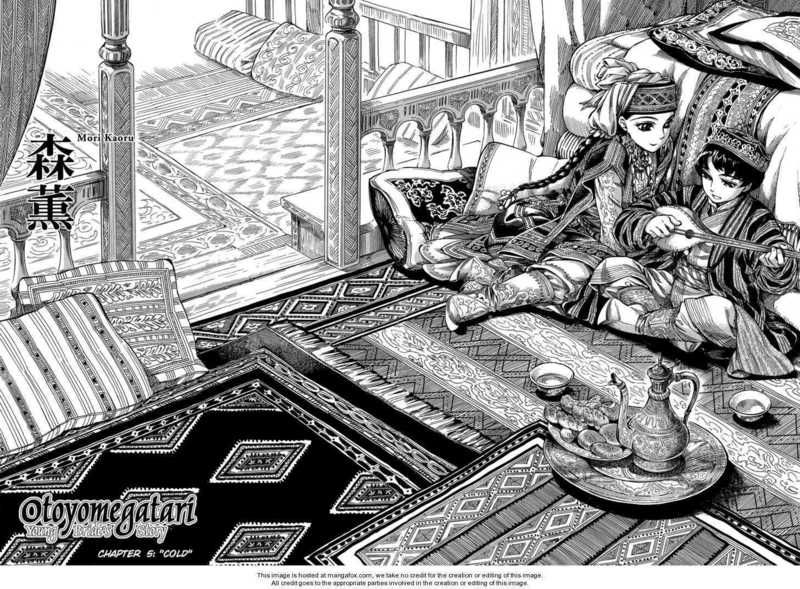 Oh, and I should mention... the artwork is amazing. So much detail is put into the clothing, tapestries, architecture, and other scenery. The people in the story hugely value embroidery and woodwork and other crafts, and its importance in their culture is echoed in the artwork. Every page is a feast for the eyes.

A+, definitely recommended!